If at first you don't succeed, try, try again!
So . . .
It's going to be a 55th + 1 Reunion in 2021!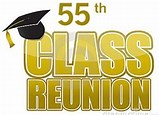 +1!

Your 55th Reunion Committee had plans in place for our next gala reunion in early October 2020--until the COVID-19 crisis hit. Uh oh! So now, your more mature 55th + 1 Reunion Committee asks you to
SAVE THESE DATES!
OCTOBER 1-3, 2021
Watch for detailed information coming soon!
Until then--stay well, get vaccinated and recruit all those classmates you've been missing to join in our October festivities.
Our gala 50th Reunion in 2015 was our biggest and best ever!

We still need more reunion photos for our galleries.
Upload your 70-1/2th Classwide Birthday Party photos here!
Upload your 50th Reunion photos here!
Not yet a member? Start by clicking on the JOIN HERE link in the Classmate: Log In box to activate your membership and take advantage of the many other features of our site.
This is a free site and is maintained by class alumni.
95,259 Home Page Visits
Since February 8, 2013